We're Uptown Now!
We're pretty proud of ourselves.... we are embracing technology and now have all our classes and events listed on our website AND you can even register and pay online without added fees! That's a big accomplishment for us! Please check it out:
https://heartlandfiber.rainadmin.com/classes.htm
You can offer your congratulations when you stop in the shop.....

September Classes

Serendipity Dyeing- Saturday, Sept. 1, 10-Noon. Learn to dye silk scarves and cotton fabrics with a huge supply of easy to obtain natural materials. We'll use fresh garden flowers, herbs and leaves as well as a variety of easy to obtain dye stuffs such as copper pennies, spent teabags, berries, spices and more! Everything is provided and you'll take home a 60" silk scarf and one fat quarter of cotton fabric. You can take advantage of the dye stuff and dye as many scarves or fabrics you'd like for an extra small fee. Instructor: Maggie Howe. Cost: $40




Weaving a Pinwheel Pattern- Saturday, Sept. 8, 1 - 4 p.m. On your rigid heddle loom or one of ours, learn to weave a striking Pinwheel Pattern. This pattern is perfect for place mats, towels and more- a new skill to add to your repertoire! Instructor: Deb Lundy Cost: $20 plus materials



Flower Pounding Dye Class- Saturday, Sept. 15, 10-Noon. Back by popular demand! Learn to dye fabrics and paper using flowers, leaves, berries, herbs and spices and a hammer! This unique natural dye process produces immediate, beautiful results! Dyeing materials provided; bring a hammer. Feel free to bring any flowers, etc., that you have and would like to use. Instructor: Maggie Howe Cost: $35



Botanical Inks & Paints- Saturday, Sept. 22, 10-Noon. Add a new dimension to to writing, drawing or painting by adding handmade botanical inks & paints. See the artistic potential of flowers, weeds & berries with fresh eyes! You'll take home freshly made plant-based art samples. Instructor: Maggie Howe Cost: $40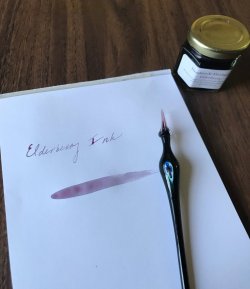 Botanical Inks & Paints




Butterfly Shawl- Saturday, Sept. 29 & Oct. 6, 10:30-Noon. This wildly popular shawl is knitted in a series of shorts rows and the color combinations are endless! Our class shows you how to get started and continue to knit short rows and change colors. Instructor: Deb Lundy Cost: $15 plus materials. You'll need US 4 - 32" circular needles and stitch markers. Extra cost for yarn will vary; you'll use two skeins of a multi fingering and one skein of a solid color. Pattern will be provided. All class purchases receive a 10% discount.



Sale of the Week!

Just in time for cozy fall knitting..... Simpli Cria by Hikoo. Simpli Cria is made with the finest 1% of all Alpaca fleece which makes it a buttery soft knitting or crochet experience. 100% Super Baby Alpaca, 95 yds, US 7-10 needles, 5-6 st. per inch.
40% Off thru September! Each purchase comes with a free Simpli Cria pattern! Shop online: https://www.heartlandfiber.net/shop/HiKoo.htm



We have new fall yarns arriving daily- Yes, it WILL cool off and we WILL have fall! Time to start knitting new fall accessories NOW!